Originally posted on January 20, 2022 @ 5:48 pm
Rice is a common staple food in Nigeria. A typical Nigerian family may find it hard to avoid rice in a week. Children of all ages love it; therefore, we must find ways to cook rice deliciously and healthily. Fried rice always finds its way to the menu during special occasions like parties, Christmas, New Year, etc. It is the kind of food that shows celebration is in the air. Although, people like me believe every food is remarkable and no food is for special occasions.
Over the years, I have developed this straightforward recipe. I am not a person who loves too much oil or fried foods. I believe there should be a balance between cooking healthy food and creating a physically appealing dish. I am someone who gets pissed off at the sight of food. If the food doesn't look beautiful, I may not be interested in eating the food.
This fried rice recipe is perfect for busy moms who cook nutritious meals for their children's lunch packs. It is easy to follow, and it turns out delicious any day. In this fried rice recipe, I didn't fry it at all; I prefer mine this way because it preserves the nutrients in the vegetables. The vegetables are what make fried rice nutritious. The nutritional benefit of Nigerian fried rice is numerous.
Nutritional Benefits of Fried Rice
It contains vitamin C, A, D, B6, and many more because of the high veggie content in the recipe.
It contains minerals such as calcium, phosphorus, iron, cobalamin, magnesium and many more
It contains carbohydrate, which provides the body with energy.
It has a high amount of antioxidants that can boost immunity.
It includes the right amount of calcium needed for good bone health.
The liver used in preparing fried rice is a rich source of protein.
Rice contains fibre which is good for the body.
Do you love Vegetable Soup? kindly check my recipe here
Nigerian Fried Rice Ingredients
Mixed Vegetables
4 cups of Rice
500g Gizzard/Beef/Chicken/Liver
Kidney Beans
Green Peas
Curry
Thyme
Vegetable Oil
Onions
Chicken/ Turkey/ Meat Broth
Sweet Corn
2-4 seasoning cubes ( preferably chicken flavour)
Salt
Preparation of the ingredients for the Fried Rice Recipe
Rice: You can either use raw or parboiled rice. There is no need to rinse the rice before cooking anymore when using parboiled rice. The first part of this recipe focuses on using raw rice.
Mixed Vegetables ( Carrot, Bell pepper, Spring Onions, Green beans, Yellow and Red bell peppers)
Kidney beans; if you are using raw kidney beans, kindly soak them in cold water overnight to soften them before use.
Onions: Dice the onions into small sizes. I prefer using white onions because it adds more flavour to the rice.
Liver/Kidney/Gizzard: You can decide to use any of these three in your fried rice, which isn't compulsory. Cook the liver a day before and dice it into tiny pieces. I have used fried meat/chicken as a replacement sometimes back.
Kidney Beans: If you use raw kidney beans, soak them in water overnight. This process is to soften it enough to be cooked.
How to Make Fried Rice
Pour water and meat/chicken stock into the pot. Ensure the water and stock mixture is enough to cook the rice.
Add 4-5 tablespoons of groundnut oil to the mixture.
Add curry powder, thyme, seasoning cube and salt to taste. Put the mixture on fire and allow it to boil.
Rinse the rice thoroughly and add to the boiling mixture. Mix so that the ingredients can mix properly.
If you are using raw green peas or kidney beans, add them to the rice at this point. It will ensure it cooks properly. You can skip this step using canned kidney beans or green peas.
Monitor closely till the rice is almost done.
Add the mixed vegetable and liver.
Cover and allow to simmer for 2 – 3 minutes
If you use canned kidney beans or green beans, kindly add them to the rice. I usually add at this stage to prevent it from breaking apart.
Stir and mix till the ingredients are evenly combined.
Turn off the heat, serve and enjoy ( you can serve along with this easy zobo recipe)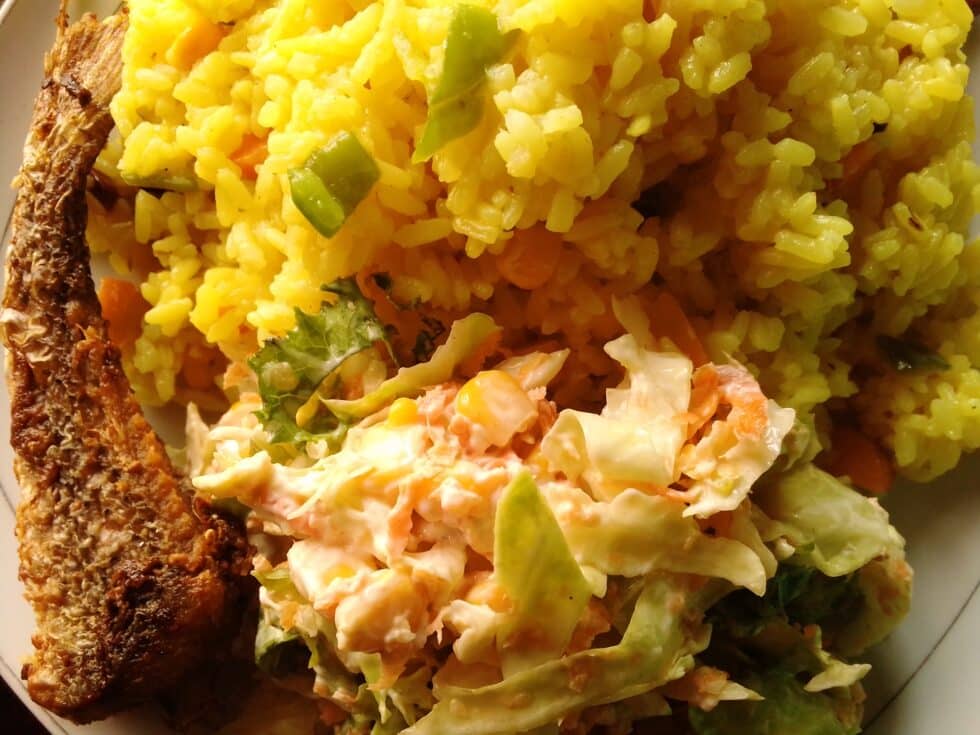 Fried Rice Recipe for parboiled rice
Since the rice is already parboiled, the cooking process and duration are faster.
Pour the Chicken broth, a teaspoon of curry powder, thyme and 2-4 tablespoon of vegetable oil into a pot and allow to boil.
Pour the parboiled rice into the broth and allow to cook till the water is dry.
While that is cooking, Put 1-2 tablespoons of oil in a frying pan and allow it to heat a little.
Pour the mixed vegetable, liver, and onion into the oil and stir fry.
Add the fried vegetable, canned kidney beans and peas.
Stir gently and turn off the heat
Note when cooking Nigerian fried rice
If you're using parboiled rice, I advise you to use canned peas and canned kidney beans; because the raw beans take a long time to cook thoroughly.
Add about 4-6 tablespoons of groundnut oil to 4 cups of rice; this will reduce the stickiness of the rice if you won't be frying it.
Don't fry the mixed vegetables for long to preserve the nutrients.
You can cook the chicken/turkey/beef a day before to reduce cooking time.
If you don't cook with vegetable oil, you can replace it with olive oil, soy oil, sunflower oil etc.
If you have leftover rice, you can also use it in place of parboiled rice. Just add it to the mixed vegetables and stir fry.
( you can serve along with this easy zobo recipe)
I hope you'll try my easy Nigerian fried rice recipe, and I anticipate your feedback and reviews.